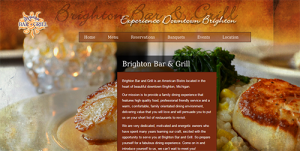 SteelFish Design:
Custom designed and coded website built to client's specifications.
About:
Brighton Bar and Grill is an American Bistro located in the heart of beautiful downtown Brighton, Michigan.
Our mission is to provide a family dining experience that features high quality food, professional friendly service and a warm, comfortable, family orientated dining environment, delivering value that you will love and will persuade you to put us on your short list of restaurants to revisit.